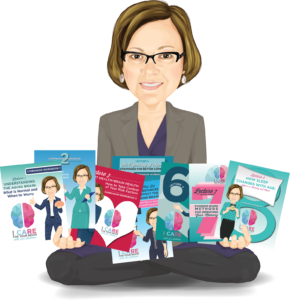 LEARN THE PILLARS OF BRAIN HEALTH WITH BOARD CERTIFIED NEUROPSYCHOLOGIST DR. KAREN D. SULLIVAN AS YOUR GUIDE
Choose Videos 1-9 of the I CARE FOR YOUR BRAIN program. Pick and choose the topics most important to you, or purchase all nine. Companion workbooks PDFs are available for purchase and can be emailed directly to you with the video link.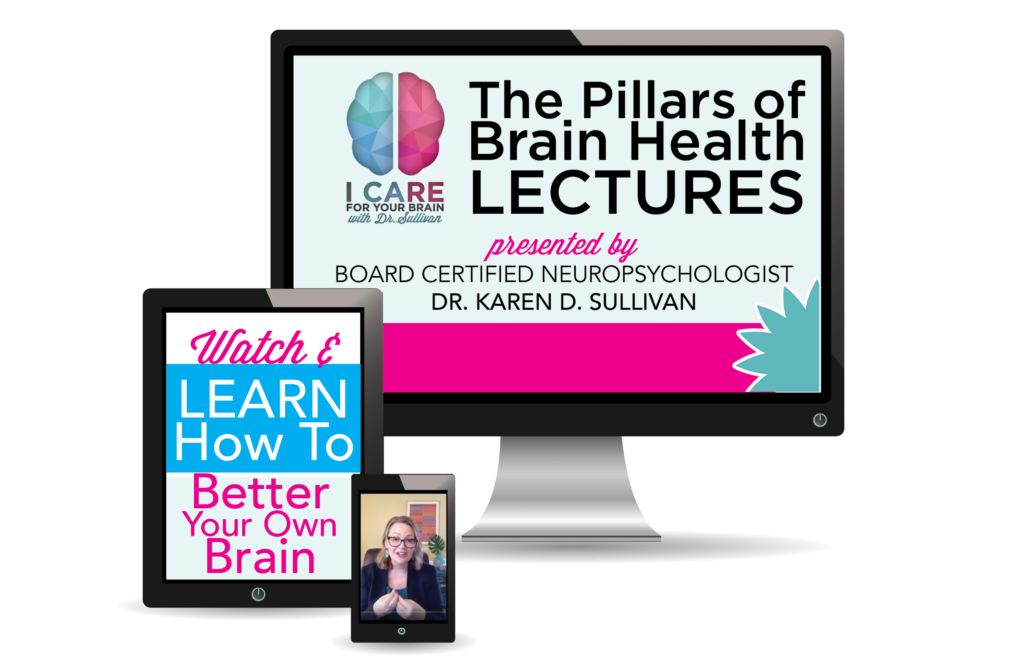 These videos are professionally recorded and edited in order to provide you with the best viewing experience. Each video averages approximately 40+ minutes of learning.
$10 USD VIDEO ONLY includes sales tax per video
$20 USD VIDEO + COMPANION WORKBOOK PDF includes sales tax

Each corresponding companion workbook PDF is 68 pages, full-color and includes articles, all of the slides from the video presentation and behavior trackers to help to help put your new learning into practice.
WATCH LECTURE 1 FOR FREE AS DR. SULLIVAN'S GIFT AND INTRO TO THE PROGRAM!
The first lecture in the I CARE FOR YOUR BRAIN with Dr. Sullivan brain health lecture series provides an excellent primer for understanding the brain and what is normal and what is not as we age. "We know that our genes play a significant role in the chances of developing of dementia; however, the decisions we make throughout our lives also have a great deal of influence," Dr. Sullivan says. "Don't make the mistake of thinking you cannot influence the course of your brain's health, because you absolutely can!
The first step is in understanding the environmental and lifestyle factors that 'turn on' our genetic predispositions for less than optimal brain health. In this lecture, you will learn about the brain from a new and exciting neuropsychological perspective and what changes in the brain are expected as we age and which ones you should bring to the attention of your doctor. Dr. Sullivan's promise is that you will leave this exciting, learning opportunity knowing how to advocate for a gold standard memory evaluation for you or a loved one.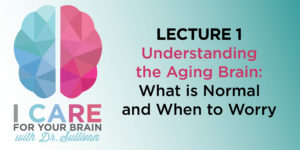 LECTURE 2
How to Minimize Your Risks for Dementia Throughout the Lifespan."
In the last few decades, brain scientists have made strides in understanding the complex interplay between our genes and lifestyle choices in determining each person's risk for developing dementia. Dr. Sullivan will review both risk factors and protective factors for dementia throughout the lifespan, including childhood, adulthood and older adulthood. The focus will be on what we can do today to reduce the likelihood that we will develop significant memory problems in the future. Remember, dementia is not a normal part of aging, and there are scientifically proven ways to reduce your risk at any age.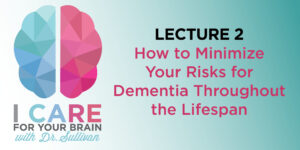 LECTURE 3
Heart Health=Brain Health: How to Take Control of Your Risk Factors
Do you know that many common conditions affect the heart, such as high blood pressure, high cholesterol, diabetes and sleep apnea, also affect the brain? Over time, these conditions narrow and damage the small vessels that supply the brain with blood and oxygen. This can result in both subtle and more noticeable changes in thinking and memory that are largely preventable! In this I CARE FOR YOUR BRAIN lecture "Heart Health = Brain Health: How to Take Control of Your Risk Factors," neuropsychologist Dr. Karen D. Sullivan discusses the connections between the heart and the brain, how to reduce the effects of vascular-related risk factors and provides practical tips that will help you CARE FOR YOUR BRAIN!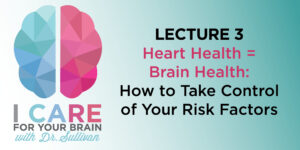 LECTURE 4
How Do Substances Affect the Aging Brain? From Alcohol to Diet and Health Supplements
Many things change as we get older, including the number of medicines and supplements we take. The average 70-year-old person is prescribed between 11 and 15 different medications. This trend is concerning, because the way substances are processed by the body also changes as we age due to a decrease in kidney function and muscle mass, among other things, which can cause a longer half-life in the body than expected or unanticipated side effects from drug interactions. In addition, many common medications negatively impact memory in older adults uniquely. In this l CARE FOR YOUR BRAIN lecture, "How Substances Affect the Aging Brain," neuropsychologist Dr. Karen D. Sullivan provides the information you need to be a more informed consumer of substances ranging from diet, prescription medicines, supplements and alcohol. As always, Dr. Sullivan will be giving evidence-based and easy-to-follow recommendations to help you better care for your brain, including the best diet for brain health.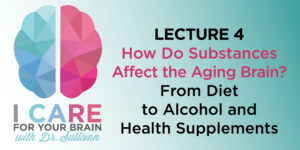 LECTURE 5
The Psychology of Aging: Strategies for Better Coping
In this lecture, Dr. Sullivan discusses the unique psychological experience of older adulthood, including the interface between physical and mental health, retirement, life review and the multiple losses that are more common as we age. There is also an emphasis on the positive aspects of aging, including personal growth, wisdom and increased adaptability. The role of chronic stress on brain health will be discussed in detail. Recommendations focus on ways to enhance coping and improve quality of mental life as we age.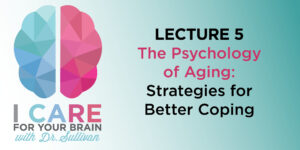 LECTURE 6
The Importance of Social Connection in Older Adulthood: It Takes a Village
It's well known that social connectedness is crucial to early brain development; however, staying socially active is also important for the adult brain. Remaining in community-based activities as we age has been shown to keep our minds sharp (maybe even slowing down cognitive decline), increase independence and improve the quality of physical and mental life. In this I CARE FOR YOUR BRAIN lecture, "The Importance of Social Connection in Older Adulthood: It Takes a Village," she discusses the brain-benefits of staying connected to a community as we get older. The lecture will include an up-to-date research report on the topic and evidence-based recommendations to help participants increase social activities in a way that is meaningful to the individual.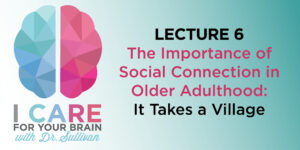 LECTURE 7
Evidence-based Methods for Improving Your Memory
Can't remember what you came into the living room for? Can't remember where you parked or where put your car keys? These types of concerns about short-term memory are common as we age. Unfortunately, the market is saturated with products promising all sorts of quick fixes for memory, from over-the-counter supplements to brain training games. According to Dr. Karen D. Sullivan, although specific recommendations to improve memory depend on the cause of the memory problem for the individual, there are numerous proven memory-improving techniques that most would benefit from, and they are all free or very low-cost! In the next I CARE FOR YOUR BRAIN with Dr. Sullivan lecture she presents "Evidenced-Based Methods for Improving Your Memory." She discusses what brain scientists know improves our ability to learn and remember. Become a more savvy consumer of brain products and know what memory tips will actually pay off.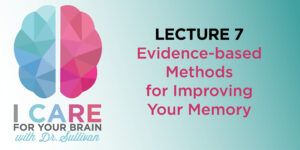 LECTURE 8
How Sleep Changes with Age: Effects on Memory and Mood
As we age, we experience significant changes in our sleep, including spending less time in the deeper stages of sleep, more disruptions throughout the night, waking up earlier and having more trouble going back to sleep. These changes are due to many factors, like nature calling (prostate issues in men and hormonal changes in women), medications, changes in our brain and medical conditions that are more common with age, such as diabetes and sleep apnea. Dr. Sullivan discusses the consequences of poor sleep on our ability to learn, remember and manage stress. In this lecture, you will learn how to actively compensate for age-related sleep changes and apply the rules of "sleep hygiene" to improve your sleep, memory and mood starting that very night!

LECTURE 9
Brain Health as We Age: Dr. Sullivan's Top 10 Recommendations
It is hard to believe, but we are at the end of the I CARE FOR YOUR BRAIN with Dr. Sullivan lecture series, but we saved the best for last. Now that we are all thinking like brain scientists and informed consumers of brain health news, we end the lecture series with a look back on Dr. Sullivan's Top 10 evidence-based recommendations for brain health, ranging from the extensive benefits of exercise, genuine ways to improve memory, the connection between heart health and brain health, the power of a good night's sleep and ways to stay socially connected with age for enhanced coping.