Meet Your Stroke Recovery Guide:

Dr. Sullivan
---
Post-Stroke Care Must Include:
The highest-quality information on brain recovery known to the most brilliant neuroscientists in the world but communicated in a way that anyone can understand
Evidence-based strategies for healing both neurological and psychological trauma
Personalized support tools to identify recovery goals, track progress and stay motivated, focused and positive
Empowerment tools to become an assertive advocate for the care every stroke survivor deserves

---
Because every brain is different from birth and every stroke is different, it makes sense that every stroke recovery will be different.
That is why I decided to search through decades of research on stroke recovery to pinpoint these 10 Rules of Rehab. This guide centers on these 10 rules, once learned and used in daily life, can carry you to the best recovery – no matter what symptom you are working through.
These are the rules that the world's leading brain scientists know contribute to optimal stroke recovery but too often do not trickle down to the very people who would benefit most: stroke survivors!
Once you understand and apply Dr. Sullivan's 10 Rules of Rehab, you will not have to wonder if you are doing enough to make the best stroke recovery possible. You will be in control. You will know what to do.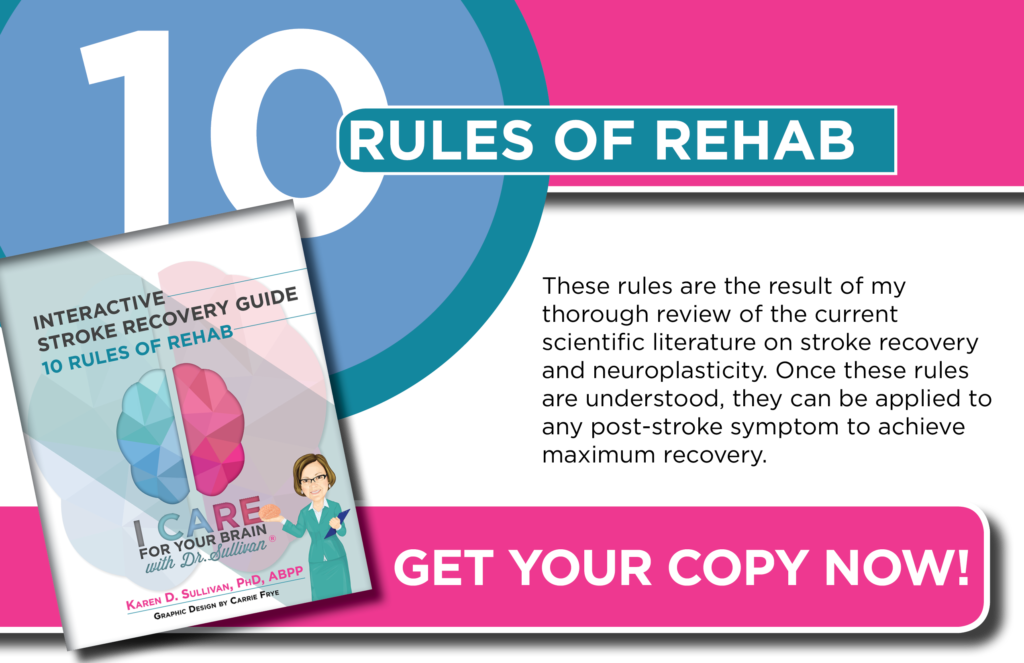 ---
What else will I learn in the I CARE FOR YOUR BRAIN Interactive Stroke Recovery Guide?
What a stroke is
The four types of stroke
How blood flows to the brain
The five most common stroke risk factors
Who should be on your care team
How to be your own best advocate with scripts to use at doctors' visits
How to define your rehab goals
The four phases of stroke care
The three types of post-stroke recovery
The only diet that has scientific support for reducing cognitive impairment after stroke
The three reasons post-stroke fatigue happens
The science of neuroplasticity, including neuro-protective molecules called "Neurotrophic Factors.â€
How to bring more of YOU into your recovery for the best results
Post-traumatic stress symptoms due to stroke
The difference between positive and negative coping
How to manage the top 5 recovery barriers (mood changes, cognitive symptoms, neurofatigue, dizziness and diet)
Help others spot a stroke with the most sensitive signs, including two that often go unnoticed
The differences between vascular-related cognitive impairment and vascular dementia
Medications for post-stroke cognitive impairment
And Much More!
---
The I CARE FOR YOUR BRAIN Stroke Recovery Guide is Interactive!
This is because brain health care must be personalized to be most effective. The interactive tools in the guide will help you personalize the knowledge learned, make the information specific to your stroke symptoms, process your unique stroke-related trauma and guide you to the VERY BEST recovery you can achieve.
These are the recovery tools you've needed the whole time and this 116-page guide includes:
Acceptance cut-outs to help you accept how things have changed
Affirmations to increase acceptance of post-stroke life
Appointment checklist to best prepare for medical appointments
Communication cards to help share difficult feelings with important people in your life
Dizziness tracker to keep a record, help identify triggers and communicate with your medical providers
Feelings wheel to recognize and communicate your feelings
Food journal to help develop more brain healthy eating habits
Gratitude journal to help improve your attitude and increase feelings of peace
Motivational cut-outs to post in your home to keep your motivation high and your attitude positive
Post traumatic growth reflections to help identify areas to increase your sense of meaningfulness, life satisfaction and fulfillment
Sleep diary to help ensure you're getting the proper rest for brain healing
Sleep hygiene tracker to get the best night's sleep
Stroke impact reflections to help understand the emotional effects of your stroke
Thank you cards to show your appreciation to your care team
Worry journal to help clear your mind
Writing prompts to gather the essential information about your stroke and treatments to date
---

How will my recovery be enhanced by the I CARE FOR YOUR BRAIN Interactive Stroke Recovery Guide?
I will be empowered with a recovery guide that is unlike any other.
I will be stronger, because I will be armed with science-based brain health knowledge as I move through my recovery.
I will feel less anxious about my future, because I will have the tools I need to reach my maximum recovery potential.
I will feel validated that my stroke was psychologically traumatic, and I will have tools for processing those feelings/memories.
I will be motivated to approach my rehab therapies with

the positive

attitude I need to achieve the best results.
I will be less vulnerable to "too good to be true†claims about brain health and recovery that don't really work.
I will be more confident, because I will know the 10 Rules of Rehab and can apply them to any post-stroke symptom I am working through.
---
And because we are so full of love and gratitude for our special community, we can't help but give you more!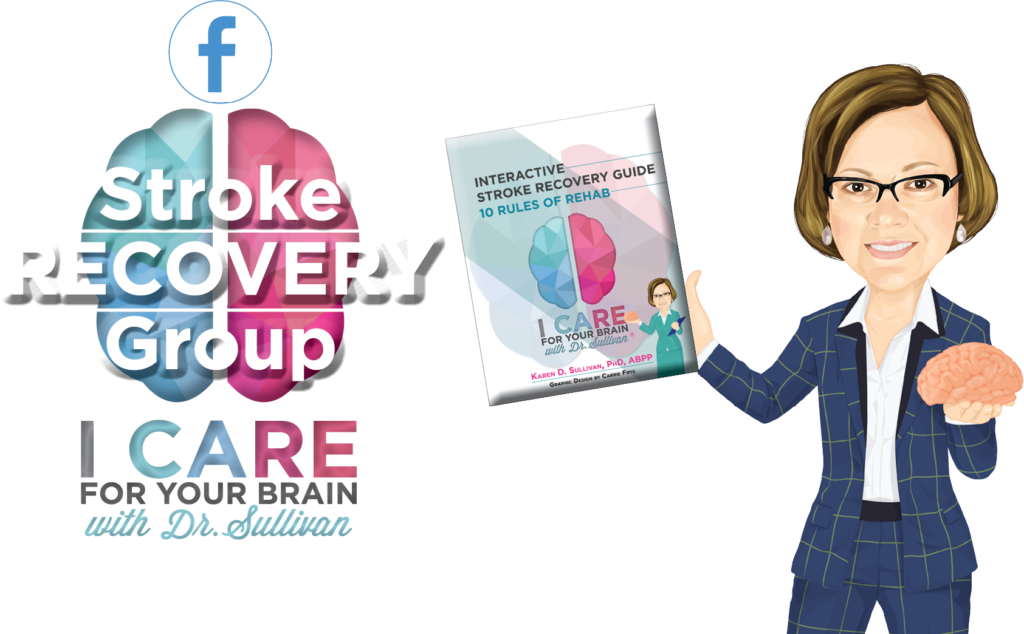 Â
BONUS!
When you buy the I CARE FOR YOUR BRAIN Interactive Stroke Recovery Guide, you will get access into a private group on our Facebook page that is JUST FOR STROKE THRIVERS and the people who care about them! When you receive your guide, it will have a special invitation in it from Dr. Sullivan with details on how to get your spot!
The theme for the I CARE FOR YOUR BRAIN STROKE RECOVERY GROUP WILL BE:
RISE!
Research-based: Science-based information on all things related to stroke and recovery.
Inspirational: Show each other that life after a stroke can be awesome
Supportive: Help others who are walking in your same shoes, give and get support.
Educational: Learn from Dr. Sullivan and other community brain health experts. A place to share your personal expertise, others will benefit from what you've learned along the way. Learn ways to advocate for your ongoing recovery and improved stroke care across medical settings.
---
Order Your ICFYB Interactive Stroke Recovery Guide Now!

116-page paperback
$27

PAPERBACK

(plus N.C. sales tax and shipping)
---

We are offering the ICFYB Interactive Stroke Recovery Guide in a digital format for those for whom international shipping costs make the guide cost prohibitive.
The digital version will come in two sections:
The entire 116-page guide; and
A grouping of all the interactive exercises and printouts for ease of printing.

$17 E-BOOK (DOWNLOADABLE PDF + SEPARATE INTERACTIVES PDF FOR EASY PRINTING) (plus N.C. sales tax)
---
What Brain Experts Say About the ICFYB Interactive Stroke Guide:

---
Dr. Sullivan's approach to stroke recovery health combines cutting-edge science and practical wisdom from her work as a clinical neuropsychologist. She brings impeccable academic credentials, humor and compassion to her work in this field. Stroke survivors and caregivers will be reassured to have such a high-quality guide in their recovery toolbox. Dr. Sullivan's 10 Rules of Rehab are spot on and bring together the fields of neuroplasticity and positive psychology to help people navigate the healing of both brain and person following a stroke. The I CARE FOR YOUR BRAIN Interactive Stroke Recovery Guide offers a thoughtful, evidence-based neuropsychological approach to care and the stroke community will be much better for it.â€
–AARON NELSON PHD, ABPP
Past President, American Academy of Clinical Neuropsychology
Fellow, National Academy of Neuropsychology
Faculty Scholar, Brigham and Women's Hospital
Assistant Professor, Harvard Medical School
---

---