Dr. Karen D. Sullivan discusses the specialty of neuropsychology and its benefits.
What is a neuropsychologist?
Neuropsychologists are generally awesome people who are passionate about brain science and helping people live healthier lives. We complete a doctoral degree in clinical psychology, internship and two years of post-doctoral training, where we learn how to be scientist-practitioners–doctors with a foundation in research and scientific practice.
Neuropsychologists make diagnoses about brain functioning and mental health through detailed interviewing, a review of medical records and comprehensive and standardized paper-and-pencil testing. As a neuropsychologist specializing in older adults, my goal is to determine if changes in someone's thinking and memory or mood and behavior are related to normal aging, a treatable medical illness or a condition like dementia and, of so, which subytpe of dementia. There are usually many contributing factors that result in the concerns or symptoms regarding which a person comes to see me. It is only when each contributing factor is recognized that a personalized treatment plan be offered that addresses each factor. Alternatively, if someone's brain is doing great, we can tell them what they uniquely should be doing to stay that way.
What aspects of neuropsychology do you feel and see as the most beneficial to patients?
I see our biggest contributions to patient care are the clarity we bring to complex changes that may have occurred in a person with our scientifically-based, comprehensive evaluation and personalized treatment recommendations.
As a neuropsychologist specializing in older adults, my patients are typically concerned about memory. Memory is a complex cognitive ability that has many parts including the ability to see and hear sufficiently, concentrate, learn new information, retrieve it quickly and recognize it over time. Our evaluation tells us exactly where the breakdown in memory is, if at all, for that particular person. Using our understanding of the brain, we can then make inferences about where in the brain the issue is and why it is happening. In almost every person, there are multiple factors contributing to memory symptoms ranging from the effect of a medication, a medical condition, such as poorly controlled diabetes or sleep apnea, perhaps a little too much alcohol, a recent fall or dementia. Without a comprehensive evaluation, it is not possible to know exactly what is causing the symptom of memory loss and provide optimal suggestions for improvement or how to stay at this same of level of functioning for the longest time possible.
What personally led you to this specialty?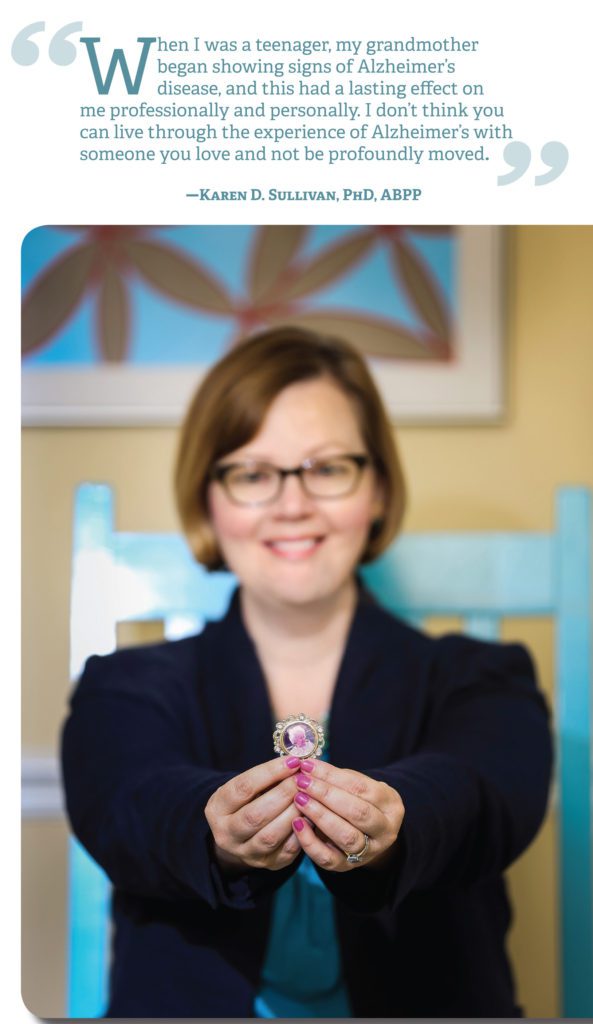 I am fortunate to have known what I am best at from a young age. When I was a teenager, my grandmother began showing signs of Alzheimer's disease, and this had a lasting effect on me professionally and personally. I don't think you can live through the experience of Alzheimer's with someone you love and not be profoundly moved. Since that time, I have known that my God-given talents are best suited for the helping profession, and I have been involved with all levels of care with older adults. I worked as a nursing assistant, activities director, co-director of an adult day health and therapeutic companion from the ages of 15-21 years old. These early experiences provided the foundation for my approach toward people and their families with various brain disorders now. These early real-world experiences provided me with the ideal foundation for my formal studies later in life at Boston University and the Boston Veteran's Hospital/Harvard Medical School, where I received my doctoral degree (PhD) and completed my internship and fellowship training. It's important to me that my patients know that in addition to my academic knowledge, I come to them with a personal commitment to understanding and improving their quality of life.
Neuropsychology is a perfect fit for my personality. I love the combination of using the scientific method, which satisfies my Sherlock Holmes side, to figure out exactly what's going on and my empathy and warmth to help explain the condition and guide my patients toward the very best treatment and support available to them. I feel so thankful to have the opportunity to serve people in this unique way. I chose neuropsychology, because it provides the best tool I have ever found to help people.
How has neuropsychology changed the treatment of dementia and other brain disorders for the better?
Neuropsychology provides the best tools for us to understand the brain and how age or disease related changes affect a person uniquely. A brain disorder isn't just a physiologically or medical condition, it is also psychological and social. A neuropsychologist's job is to bring clarity, understanding and care to how a certain condition affects the whole person, not just one part of their body (i.e., the brain).
We care about how people and families are adjusting to their brain condition, how they are grieving in some instances, how they are meeting their work and family obligations and how their relationships are affected. In the case of dementia, it is critical to know what specific type of brain disease is causing dementia, so treatments can be customized and the proper information can be discussed, including what to expect in the future, what type of care and support the person needs and how family members can specifically help the person remain as happy and independent as possible. To just say, "This person has dementia,†is inadequate and only allows for a one-size-fits-all approach to care, and people miss out on the best life they could be having.
Because of your research background, can you talk about the advances in care and treatments, and any expectations in future developments?
I am optimistic that the future of brain science will be more translational and accessible to the general public. What I mean by this is that I hope advances in brain research trickle down to help people make more informed decisions in their everyday lives. There is so much misinformation and "junk science†targeted to older adults in the media. Because these issues are personally important to me, I developed the I CARE FOR YOUR BRAIN program to empower adults with science-based information they can use to realistically improve their brain functioning. These steps are well-known to scientists but all too often don't make the headlines or public awareness. The media tends to focus on fads in brain science in quick blurbs that can be misleading. This is in contrast to what older adults want. Multiple studies have shown that staying mentally sharp is a top priority and concern among adults older than 50, outranking issues such as Social Security and physical health (AARP, 2012). On the whole, older adults are becoming more aware of the importance of brain health, and they are actively seeking to learn and employ scientifically supported strategies to improve brain health, reduce the risk of developing dementia and detect memory loss at the earliest stage possible. This makes me happy.